Get Started with DJI Terra
Exploring DJI Terra
In recent years, drone technology has revolutionized various industries, enabling professionals to capture high-resolution aerial data with unprecedented accuracy and efficiency. Among the multitude of drone software solutions available, one platform stands out for its advanced capabilities in mapping, inspection, and more – This is DJI Terra.
The DJI Terra is a 3D model reconstruction software focuses on 2D Orthography and 3D Model Reconstruction while supporting functions such as 2D Visible Light Reconstruction, LiDAR Point Cloud Processing, and Detailed Inspection. Designed with precision in mind, DJI Terra complements DJI Enterprise drones and their payloads. The synergy between these elements gives rise to comprehensive application suite that serves a diverse array of industries including land surveying, mapping, power transmission, emergency services, construction, transportation, and agriculture. Licences available for DJI Terra – Agriculture, Pro, Electricity.
The Precision Advantage
The adoption of DJI Terra in areal mapping is steadily on the rise, owing to its accuracy and efficiency. The ability of DJI Drone and the Zenmuse P1 camera (high resolution 45MP full-frame sensor), give you possibility to recreate Sharp images to help with the 3D models. With the ability to Capture centimetre-accurate data and combined with the real-time position and orientation compensation technology, your data is detailed and accurate.  Based on the data from the drone sensor, DJI Terra allows users to create detailed maps distinguished by their elevated accuracy.
2D reconstruction, picture taken by the drone facing straight down, pixels have a coordinate, and the distance between two pints can be accurately measured,

2D multi-spectral reconstruction, take advantage of multispectral images contains near-infrared information, output can better reflect the growth state of plants compered to the regular RGB photo, which is consistent with the colours seen by eye,

3D real scene models simulate the real world by captured photo,

LiDAR Point Cloud allows high accurate processing of the point cloud, which can be shared with third party software.
Suitable for surveying and mapping areas, such as construction sites, agricultural lands, and forests.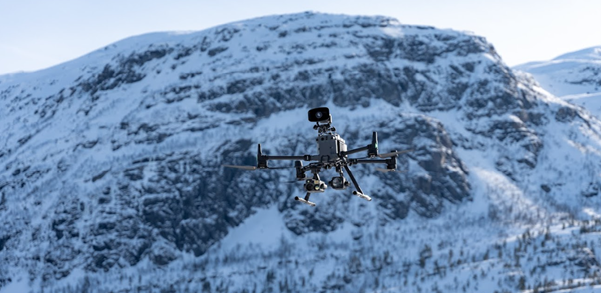 A Key Player in Drone Mapping
The traditional, time-consuming, and labor-intensive processes of land surveying and mapping have been revolutionized by DJI Terra. With this software, professionals can seamlessly create highly accurate 3D models of landscapes, generate topographic maps with exceptional resolution, and significantly reduce surveying time while minimizing human error.
While GPS systems do offer positioning accuracy, integrating more advanced technologies such as Real-Time Kinematics (RTK) and Post-Processing Kinematics (PPK) can significantly enhance data accuracy. RTK and PPK technologies address common errors within satellite navigation systems, pushing the boundaries of surveyed and mapped data accuracy. The combination of automated flight planning and technologies like RTK and PPK is revolutionizing the way aerial data is collected, making DJI Terra as a pioneering force in this transformative era.
Streamlining the Aerial Data Workflow
Another benefit of DJI Terra integration for your areal mapping is high processing efficiency. The reconstruction processing speed is 3-5 times faster than the standalone software. Users gets the ability to promptly adjust, drone settings, optimizing their mapping encounters. The intuitive user interface empowers users to seamlessly plan flights, oversee data, and analyse outcomes. Automate the flight planning process, trimming wastage of time and resources associated with manual planning.
Who wants to wait when you can get real-time results? DJI Terra enables users to render and visualize a 3D model of their mapped area quickly, providing immediate insights for on-site decision-making. Additionally, users can plan 3D flights in real-time, enhancing efficiency and flexibility in data collection.
Minimum Requirements for DJI Terra
To unlock the potential of DJI Terra, a solid foundation is essential. A Windows 7 or above (64-bit) system serves as the launchpad for this software's capabilities. On the hardware front, a minimum configuration of 32GB RAM and NVDIA graphics card boasting at least 4GB VRAM is mandatory. Notably, the graphics card must possess a compute capability of 3.0 or above. These prerequisites a seamless and efficient experience while harnessing the power od DJI Terra.
DJI Terra Firmware Update
To stay at the forefront of the industry, DJI Terra regularly releases firmware updates that enhance user experience and introduce new features. The latest firmware updates, Version 3.8.0, bring significant improvements to DJI Terra. These updates include the Auto Identify Mark function in GCP Management, size reduction of models for improved loading speeds, and direct PDF export of DJI Terra quality reports. The software also benefits from an optimized aerotriangulation algorithm, resulting in increased photo calibration accuracy. It's important for users to keep their NVIDIA graphics card driver updated to 452.39 or later to ensure proper reconstruction function.
By harnessing the power of photogrammetry, AI technology, and compatibility with DJI Enterprise drones and payloads, DJI Terra has revolutionized the way professionals map, inspect, and understand the physical environment. It's time to embrace the power of DJI Terra and witness the transformation it brings to your workflows. For any queries or assistance, feel free to reach out to our dedicated customer support team at (01) 456 8650 or via email at info@surveydrones.ie.
Fly higher, plan better, and explore the limitless possibilities with DJI Terra!