Mavic 2 Enterprise Advanced
The DJI Mavic series has seen several leaps in its capabilities since its introduction back in 2016. DJI's aim with the series has been to find a good balance between compact portability and high quality camera sensors. Now with the Enterprise edition of Mavic, Mavic 2 Enterprise Advanced, DJI provides an ideal solution for visual and thermal based inspection based surveys.
The Mavic 2 Enterprise Advanced (M2EA) not only finds a welcome home within the inspection and survey world but also has extensive utility in operations such as search and rescue, law enforcement, firefighting, and environmental protection.
Sensors
The sensors are central to the M2EA's capabilities and prospective applications. The solution comes in a dual-imaging configuration equipped with both a visual camera and a thermal imaging camera.
Key Specs of the Visual Camera Key Specs of the Thermal Camera
48MP 640 x 512 Thermal Resolution
1/2-inch CMOS sensor 30Hz Refresh Rate
4x Lossless Zoom 16x Digital  Zoom 
32x Digital Zoom ±2°C Temperature Measurement Accuracy
Thermal Sensor
DJI has done remarkably well to adapt a great quality thermal sensor in such a tight space and shows a marked upgrade from the earlier Enterprise platform. At 640 x 512 the resolution has been quadrupled compared to the older version as well as having a smoother performing refresh rate at 30Hz and 16x digital zoom. Although the 16x digital zoom is available, real world use will see up to 8x before resolution is lost rapidly.
This era of thermal sensors for DJI is a step away from FLIR cameras. DJI have worked closely with FLIR in providing such sensors, however now they have begun to produce their very own.
For inspection surveys the 'DJI Thermal Analysis Tool 2' software allows users to analyse their radiometric based images in the office. In applications such as search and rescue, firefighting, law enforcement and environmental protection, the significant improvement in resolution has provided a desperately needed upgrade to the platform.
Visual Sensor
DJI's efforts to keep the Mavic series compact and portable leads to the series being limited to just a 1/2-inch visual sensor compared to the preferable 1-inch sensor. There is one expectation to this Mavic rule however and that was the release of the Mavic 2 Pro in partnership with Hasselblad. 
This Mavic 2 Pro had the full inch sensor, however the camera requires noticeably more physical space beneath the nose of the fuselage. Having the full inch sensor available for high-end applications would be ideal, however the Mavic 2 Enterprise Advanced does a very good job in design considering the limitation in space given the dual-imaging setup.
An impressive feature of the visual camera is its zoom capability, with 4x high quality lossless zoom and up to 32x of digital zoom. Even at full digital zoom the video stream remains impressively steady although due to the extreme zoom resolution is lost in the process, which is to be expected. 
The Mavic series has seen a shift in megapixels over the last few years from 12MP to now 48MP. This jump seems impressive, however it must be considered that the sensor size has not become any larger, merely the sensor has been divided more. Divide each individual 12MP by 4 and hey presto you now have 48MP. This reduces the dynamic range of the camera. It is however a required sacrifice in maintaining reasonable resolution at higher digital zoom levels since digital zoom is linked to available pixels.
Modular Design and Accessories
The M2EA modular design and attachable accessories are a very impressive part of the drone's design. DJI has done a fantastic job in allowing users to fit externally mounted accessories to the fuselage seamlessly and safely. 
Real Time Kinematic (RTK) Module
For the survey industry in particular, it has been fantastic to see DJI implement RTK capabilities to a selection of drones such as the Phantom 4 RTK and the Matrice series. Although good positioning accuracy may be utilized in applications outside of surveying, the high-end accuracy that RTK modules provide to image geotags is fantastic for survey applications. The most notable real benefit being the reduction in required ground control points.
Spotlight
The spotlight is a great feature when working in low light conditions. Its main utilities are both search and rescue as well as law enforcement. Having a half-inch sensor, the M2EA benefits greatly from significantly extra light to illuminate the scene. That being said, the thermal sensor will find far more use at low light in such applications.
Once the module is attached, the spotlight icon will appear on your screen. After tapping the icon the light will switch on to 50% on the ground, only allowing you to increase the brightness once in flight due to potential eye strain caused by the intense light.
The spotlight finds its best applications when operated in conjunction with the thermal camera. If using the M2EA to search for people in low light conditions, using both the thermal camera to spot the individual's heat signature followed by the spotlight to identify the individual is ideal. Essentially, the M2EA offers on a small scale what a helicopter offers in such situations. Not that the M2EA could replace the extensive capability of a helicopter, however it provides a very useful and rapid first line of response for those on the ground.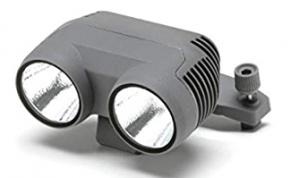 Speaker
The speaker allows operators to record and store voice notes on the app and replay them through the speaker mounted on the fuselage. This feature is fantastic for communicating succinct and direct instructions in search and rescue operations or even in less immediate situations. 
Lifeguards giving instructions to surfers and swimmers that a rip current is in the water, firefighters or police giving instructions to bystanders to stay clear, an injured individual is stuck in a location that is not immediately accessible to responders. In all situations, the speaker offers a line of communication to the situation at hand, allowing operators to perform their duties faster and more effectively.
Beacon
The beacon provides a flashing white light for safe night operations. This means that the drone is highly visible for those on the ground as well as in the air. In some ways the beacon is a small indication of drones becoming more and more integrated into aviation as all aircraft in the world of aviation must have flashing strobe lights on the fuselage.
Notable Features
Smart Controller
The new smart controller offers a welcome step away from the mobile phone and tablet plug and play setup. The integrated 5.5-inch 1080p screen allows for great visibility even in bright conditions with DJI apps already installed. Third party apps are also supported.
Working Temperature of -10°C to +40°C
In the extremes of temperatures, the M2EA will continue to operate safely.
Self-heating Batteries
In low temperatures the smart batteries self-heat allowing for fast mobilisation, essential for many M2EA use cases.
Discreet Mode
This allows users to switch off navigation lights. When operating in cold conditions, Discreet Mode allows more power to be used to heat the batteries rather than the navigation lights.
AirSense
This integrates ADS-B technology seen in all other aspects of aviation for collision avoidance. DJI plans to implement this into all of its drones above 250g, meaning operators will be warned of nearby air traffic during flight.
Mobile Software Development Kit (MSDK)
This feature enables users to code and customize their drone and its features. It is somewhat outside the scope of day to day users, however it is a noteworthy feature of the drone nonetheless.
A Functional and Compact Solution
The Mavic 2 Enterprise Advanced offers professionals an ideal solution for a range of applications from inspection surveys to emergency first response. The Enterprise edition in the Mavic series is not necessarily targeted at photographers and filmmakers, but rather those who require a purpose built, functional drone that can be mobilised rapidly.
The drone balances modular extras, compact portability and solid imaging sensors to give professionals a great all round portable and cost-effective thermal capable platform.
Survey Drones Ireland is Ireland's official Silver Partner & leading reseller of DJI products, with a wide range available upon request. Get in touch with one of our experts about how the Mavic 2 Enterprise Advanced may fit your needs.
If you need further advice on this product please send an email to info@surveydrones.ie or fill in the contact page on this website or Click Here to know more.