How To Import A Processing Options Template In Pix4D Mapper
To Import a Processing options Template or a .tmpl file into Pix4d Mapper, from one computer to another.
  1.Open a Project that you have used the template on.
  2. Go to the Menu Bar and Click Process then click Options.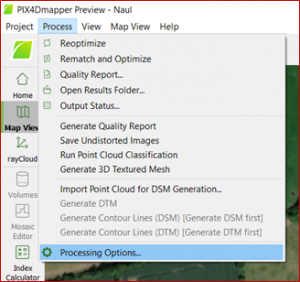 3. When you click on Processing Options the Processing Options window opens up.
 4. If you go to the bottom middle, you see three options that you can do with the templates.
Load Template

Save Template

Manage Template
Load Template – If you have a number of Personal Templates Saved you click on this and the option to open them up to be used for processing becomes available for you.
Save Template – This is where you select the processing options for your new template that you are going to save under personal templates.
Manage Template – This is where you have the Option to Import and Export saved templates. When you click into Manage Template there is a list of all your Personal Saved Templates and there is also an Import/Export box bottom left hand corner. Tick this for more options to appear.
5. Click on Manage Templates.
6. The next window that opens up is as follows. Here you can see your personal saved templates.
You can also highlight the Predefined Templates and Duplicate them or if you wish to create a new one or even if you want to remove one of your old ones. You cannot remove any of the predetermine templates created by Pix4D. You will only be able to remove your Personal Templates.
 7. If you click on the Import/Export box other options will open.
8. If you click on Import it will open up the window to where you have saved your template to import.
9. If you click on the Export Option, the window that opens will be the folder where you want to save the template to. This can be then moved to a USB hard drive that can be imported into another computer. Or you can email this template to a fellow work colleague that wants to use the same template that you are using for your projects.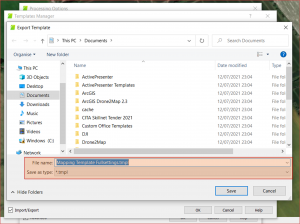 10. If you click on the more processing options templates (.tmpl) available It will bring you the Pix4D Support Page "Step 2 – creating a Project"

This is how you can Import and Export Pix4D Mapper Templates from one computer to another or simply just import one of your own saved Personal Templates for a particular type of processing. You may not need to have a High quality Orthomosaic, but you want to have the Point Cloud set a high setting, then making up your own template would be a good idea. You can have as many different personal templates as you like. Remember when you create your template add in the description of the template this way you can easily identify your favourite template.
If you have any Pix4D Mapper questions by all means give us a shout send an email or gives us a call. info@surveydrones.ie
If you need further advice on this product please send an email to info@surveydrones.ie or fill in the contact page on this website or follow us on