Using Drones for BIM and Producing Digital Twins
BIM & Digital Twins
Building Information Modeling (BIM) is a type of project management for the construction industry. BIM allows everyone from clients to contractors to visualize, update and monitor the site in 3D space. Helping to reduce errors, omissions and site clashes, BIM can increase the efficiency of a project dramatically.
A digital twin is a virtual representation of a building that is tracked and updated throughout the building's life cycle. In this sense the 3D model within BIM software can be said to be an exact, up to date digital twin of the building under construction.
Most notably, it is not simply a '3D model' of the site. It is a collective of detailed information on every aspect of the building from pipe types and dimensions to floor levels and steel frame positions. This form of construction management has become very popular due the incredible benefits found across the lifecycle of the project.
BIM is an extremely powerful tool which, in the last decade, has become an essential part of any major construction project.
Initial Stages
At the initial stage of any major building design project it is critical to know what is happening on the ground. This is where land surveyors step in. They can use a range of technology in order to provide a detailed topographical map of the site from total stations and laser scanners to drones. Drones such as the DJI M300 and Phantom 4 ranges can provide accurate point cloud data, digital elevation models and orthophotos of the entire site. 
With accurate point cloud information a digital twin of the entire site can be created showing the pre-build site characteristics in great detail. If required the twin can be kept up to date by regularly scheduled flights such as monthly or bi-monthly.
Two other significant benefits of using a drone at this stage of the project is rapid data collection and the ability to obtain orthophotos of the entire site. This means that before any construction proceeds the client, contractors and anyone in between can have an accurate record of exactly how the site initially appeared. Drones can continue to be a part of the BIM workflow and see each phase of the project develop through orthophotography. This imagery can then be used for marketing, progress reports and even inspections. 
Ongoing Inspections
The fundamental reason why BIM exists is to build everything right the first time. Although this goal is essentially seeking an unrealistic ideal of perfection, mistakes are always made, BIM aims to largely mitigate expensive rework. Ongoing inspections play a fundamental role in catching errors by identifying discrepancies between the design model and real world construction.
Through high resolution orthophotography, errors and indeed verifications of construction across the site can take place. Large areas of excavation and roofs can both be easily inspected using orthophotography. Everything from excavated trench position to rooftop HVAC units can be identified rapidly and the appropriate contractor can be notified. 
This is a clear example of how drones can provide a great avenue of communication with an obvious visual representation for those responsible on the ground. This gets away from relying entirely on basic 2D drawings the construction industry has been using since the beginning of time.
Even after completion drones can be used to perform thermal inspections showing areas in which excessive heat is or is not present. This adds an extra layer of data and provides a greater understanding of whether the building is performing to its efficiency targets. The DJI Zenmuse H20T sensor provides fantastic thermal imaging for this exact purpose.
Marketing
The marketing of a building project may not directly affect its construction, however drone images and videos can provide impressive shots of the building's life cycle from start to finish. Creating an as-built digital twin of the building goes even one step further in showing off the successful completion of the project. Realistic digital twins can be produced in photogrammetric software with incredible detail showing the building and surrounding site. These digital twins can be shared across social media alongside images and video to share the completion of the project and provide impressive views of the new construction.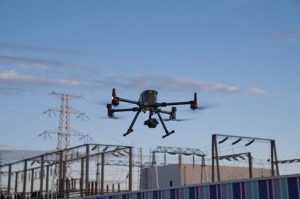 Drones for BIM and Digital Twin Modeling
Drones have the capability to add a great deal of value to BIM workflows. First survey, production of regularly updated orthophotos, digital twins as well as promoting impressive marketing campaigns are all examples of how drones add value to the architecture, engineering and construction sectors.
Survey Drones Ireland have the drones and expertise you need to effectively integrate into BIM workflows. Get in touch to see how drones can be used to add value and efficiency to your work.
The industry has some exciting times ahead! To join along, get in touch at info@surveydrones.ie for any inquiries, support and sales. For more information learn more about Drone Survey contact one of our experts at Survey Drones Ireland who will be more than willing to assist you in finding what suits your needs.
If you need further advice on this submit your query on contact page.