Welcome in the Future. Meet the new delivery drone the DJI FlyCart 30.
Guess what? DJI, one of the most successful drone companies in the world, just made a change in direction from their normal Drone technology. They've officially entered the delivery and logistics market with their brand new DJI FlyCart 30. This Drone is like no other because it's got a lot of new safety features which are built into the Aircraft, one example is the Parachute System. There are two different configurations with this system, and with the system having the ability for a greater distance along with an advanced payload capacity this does make The DJI FlyCart 30 a game changer for the Delivery industry.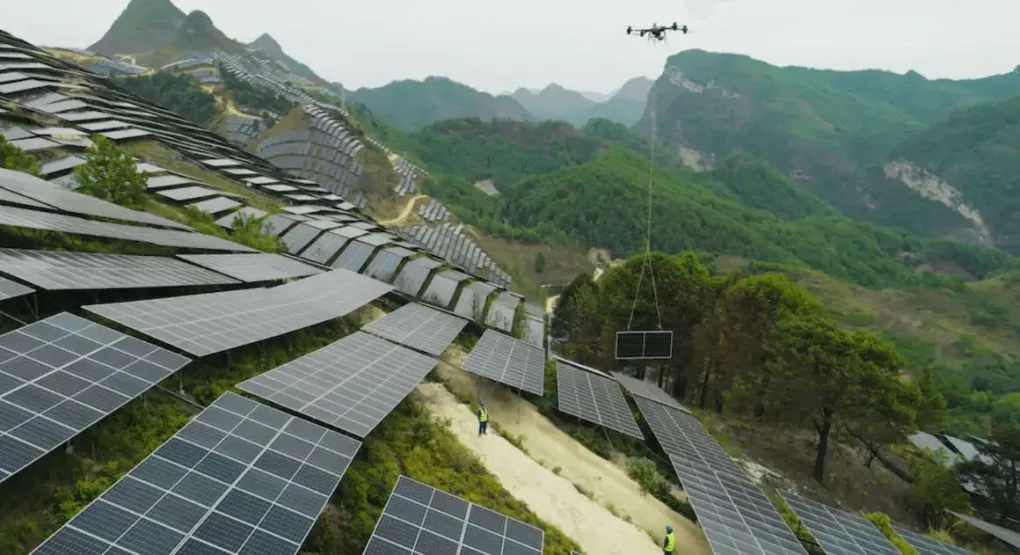 Features and Specifications
Heavy Load: 30kg maximum carrying weight (dual batteries); 40kg maximum carrying weight (single battery).
Long Distance: 28km maximum flight distance (no load, dual battery); 16km maximum flight distance (30kg load, dual battery). Maximum flight time of 18 minutes with double battery and 30kg load.
Fast Travel: Maximum flight speed of 20m/s; 15m/s cruising speed.
All-weather Operations: IP55 weather protection; -20°C to 45°C working environment temperature; 12m/s maximum wind-speed resistance.
Strong Signal: DJI FlyCart 30 is equipped with DJI O3 image transmission, and the image transmission distance can reach up to 20 km. Operators can also benefit from 4G enhanced image transmission.
Enhanced Safety Features: Multi-directional, all-weather, all-time intelligent obstacle avoidance during flight; dual radar; built-in ADS-B signal receiver; built-in parachute; flight redundancy.
DJI Transport: One-stop airborne cloud platform. Efficiently plan equipment tasks, fully control operation dynamics, centrally manage team resources, and statistically analyse multi-dimensional data.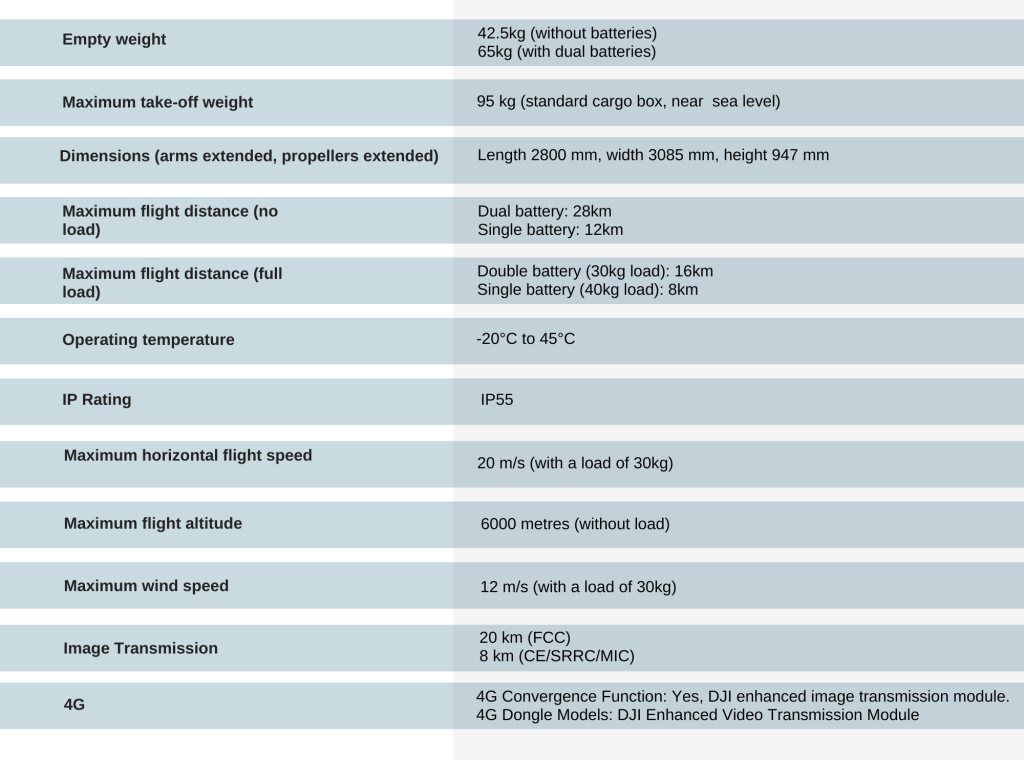 Cargo Box and Winch Crane System
So, the DJI FlyCart 30 has two different ways to deliver cargo. First, there's the cargo box mode. This means the drone can carry  a container that can hold up to 70 Liters of volume. It only takes three minutes to put it together or take it apart! That means loading and unloading your cargo is super quick and easy. Plus, the cargo box has a built-in weight and centre of gravity detection sensor, so it knows if everything is loaded properly, and it can fly safely and steady. We have only highlighted some of the features here for the Cargo Box Mode.
The Second Mode is the Winch Crane System, this is to be utilised where you can't land, because of safety reasons or simply not possible to land. The Winch system has a 20meter cable which has a maximum retractable weight capacity of 40kg. With the winch crane system, the drone can still deliver stuff without landing. It can be controlled automatically or manually, so it's really precise. If you are looking to delivery to a ship/boat or a moving platform, the Winch System becomes very effective in this scenario. The Winch System has an anti-sway function that helps prevent the swing of the cargo on the Winch Cable. The System has sensors that know when the package touches down to the ground and then the cable is released from the Aircraft.
Both of these delivery modes are very practical and effective and have their own advantages. The DJI FlyCart 30 is drone that can adapt to any delivery situation. It has opened up new possibilities for companies that are looking to getting into the delivery business. DJI track record with safety features on their Drones is outstanding. They are truly world leaders in the commercial drone technology. However, in Europe the Drone Rules and Regulations have changed over the past two years, which does cause us Europeans to be more cautious to new Drone technology being released. This aircraft is initially launched in China because in China they have the required infrastructure and Rules and Regulations in place to make this type of operation possible.
DJI are aware of what is required for full scale operations of a BVLOS (Beyond visual line of sight) type in Europe. The fact that the Drone is equipped with a parachute system is a good sign that DJI are thinking of the European market. Here in Ireland for BVLOS operations we would recommend that you speak to us about what is required for you to do, in order to be able to conduct BVLOS operations in Ireland.  In the UK they have started the process of developing a 264km 'Drone Superhighway' which will standardised and have an airspace policy in place which allows for BVLOS operations. This is planned to be ready for Mid-2024. BVLOS operations by their nature are complicated. It's not just a simple matter of just taken out your drone and flying beyond 1km. There is so much more to BVLOS operations, Safety must be paramount.
Drone Deliveries are going to be a real thing of the future. As we replace our Carbon footfall in relation to petrol and diesel cars, Trucks, and Vans, our standard method of delivery at present. We will soon see the bigger drones which can carry up to 600kg flying that "Last Mile of Delivery". Rules and Regulations are a big part of allowing this section of the Drone Technology to develop no matter what our option of these rules and regulations whether we agree or disagree they must be created in order to have a safety and orderly approach to Drone Deliveries. Remember in airspace, there is Manned and Unmanned aircrafts and the Manned aircrafts with people on board. Safety is foremost.  We completed Irelands first Medical Delivery from Connemara out to Inishmore the arran Island back in 2019 in conjunction with a number of companies, NUI Galway, Vodafone, Skytango and Wingcopter. https://youtu.be/APyJRbfxYiE
This year has been a very busy year for new product release from DJI, hopefully this will not be their last. We are looking froward to DJI's first version of a Fixed-Wing Survey Mapping Drone. Please get in touch if you have any questions about Drone Deliveries or BVLOS Operations.