Why Upgrade To DJI Enterprise Drones?
Why Upgrade To DJI Enterprise Drones?

The DJI Enterprise drones are a mark above the regular consumer grade platforms. DJI has built a suite of drones, software, and support systems in which commercial drone operations can perform at their most optimum.
The consumer drone solutions on offer by DJI are very powerful for a range of operations however, if the intent is to take a company or agency's operations to the next level of durability and data quality then Enterprise is worth serious consideration.
The Enterprise packages are more costly upfront however, this may be a worthwhile investment given the potential marked increase in benefits in hardware, software, and support.
Premium Hardware
Enterprise series such as Matrice are built for industry-specific applications. Missions such as search and rescue, off-shore inspections and remote mapping in the toughest of weather conditions are all considered par for the course when it comes to these platforms. The M300, M200 and M30 Enterprise drones are amongst the best in DJI's fleet.
The Enterprise M300 RTK has staggering adverse weather ratings with the ability to resist high levels of rain, wind, temperature changes, and even steam and salt. The drone's 'IPX5' rating confirms that it can withstand a downpour with no immediate or lasting adverse effects. This confidence in such conditions comes from quality design and air-tight manufacturing.
Compared to the Phantom 4 consumer drone the M300 RTK has up to 50% more wind resistance at 15m/s, almost double the battery life at 55mins, and an extra 30°C of operating temperature range. 
Why Upgrade To DJI Enterprise Drones – Payloads & Sensors
The Zenmuse suite of payloads from DJI covers every aspect of drone operations. The Zenmuse payloads available include the X7 for cinematic filmmaking, the XT for thermal imaging, L1 for lidar applications, and the P1 for photogrammetric missions. Perhaps most impressively has been the integration of two or more sensors on one payload. The H20 combines both thermal imaging and RGB imaging in one unit. Another example of this is the Zenmuse L1. The L1 combines DJI's first Lidar solution with a 1inch, 20MP RBG sensor. This combination is an ideal solution for mapping.
The marriage of sensors on single payloads is a great leap forward for not only DJI Enterprise but the drone industry at large. 
The combination of two or more high-end sensors reduces the need for multiple flights and recapture of the same scene. That being said, for the most specialised of operations where only one output is required, standalone sensors will likely be preferred as they can pack more into the same payload. The M300 has the capability to combine a staggering three separate payloads at once, two below the fuselage and one above. From a design and manufacturing standpoint it is a great achievement.
Additional payload options on a range of enterprise drones include a speaker for public safety missions, a beacon for safe navigation and powerful top-mounted light for low-level light operations.
Data Quality and Accuracy
Sensors are possibly the most critical part in achieving great data quality however, great data is an all-in-one problem. Combining the drone, payload, positioning and software to the highest standards is what the Enterprise edition of DJI strives to achieve.
OcuSync Enterprise
DJI have recently introduced OcuSync Enterprise, the drone manufacturers best communications yet. It allows operators to operate up to 15km at 1080p resolution to the controller. This kind of distance and maintained connection is more than most require, covering almost any operation with a high definition connection of mission and sensor data.
Real Time Kinematic (RTK) Positioning
DJI offers RTK positioning on a variety of drones. From the larger M300 to the mid-sized Phantom 4 all the way to the foldable Mavic 2 Enterprise Advanced. RTK positioning provides very high levels of real time positioning during flight. DJI Enterprise strives to provide the best in class in all aspects of drone operations. For many operations such as mapping and inspections, higher end positioning accuracy is often essential. 
For mapping, RTK will provide high levels of accuracy resulting in increased quality of orthophotos, point cloud and digital elevation models. During inspections, close-quarter flying can be the norm. When flying meters from buildings, chimney stacks and wind turbines, steady and accurate positioning is everything. RTK positioning will provide the operator with confidence and assurance that the drone is fit for the job in hand.
DJI are rapidly developing two flagship software that will greatly enhance the overall enterprise experience. DJI FlightHub Enterprise as well as Terra, available to all customers, provide excellent platforms from which drone data can be processed and visualised.
FlightHub 2
Offering an all-in-one solution for immediate site to office data visualisation, FlightHub 2 is the latest generation of FlightHub software. The management software allows office-based personnel to connect live to the drone on-site seeing what ground crews can see. This is a huge advantage for public safety missions allowing for fleet management, reduction in communication barriers, real-time situational awareness, live mapping and mission planning.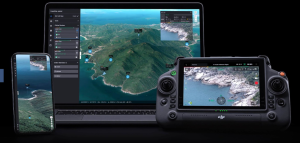 Terra is DJI's dedicated mapping software perfect for photogrammetry and lidar data processing. From waypoint missions for video surveys to high resolution 3D modeling outputs using images and lidar, Terra allows users to process their drone data smoothly and accurately. 
Why Upgrade To DJI Enterprise Drones? DJI Enterprise offers the best drones on the market for industry specific applications. From the highest spec hardware and payloads to high precision navigation and post processing, DJI Enterpirse is the next step for your drone operations.
Upgrading to DJI Enterprise Drones need a careful evaluation to identify the suitable Drone/Sesnor required to get the job done and also present itself with a number of challenges for which Survey Drones Ireland can best advice on. Survey Drones Ireland, is Ireland's only DJI Enterprise Official Silver Partner. For more information, contact one of our experts at Survey Drones Ireland who will be more than willing to assist you in finding what suits your needs.
If you need further advice on this please send us an email to info@surveydrones.ie or fill in the contact page on this website.