How to Successfully Secure a Permit to Start Surveying with Drones in Ireland
How to Successfully Secure a Permit to Start Surveying with Drones in Ireland: In 2019 the European Union introduced new regulations for all outdoor drone operations. Previously each member state had its own set of regulations that were roughly based on international consensus. The 2019 regulations aim to standardise the legal and safe operation of drones across the EU.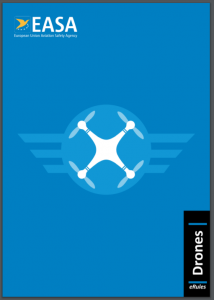 In Ireland the Irish Aviation Authority (IAA) is the governing body for all things aviation. The IAA has established a website called MySRS.ie which is where all operators must be registered. MySRS is the go to website for basic training and licensing applications.  The authority has worked in conjunction with registered training organisations it calls 'Declared UAS Training Organisations' (DUTO) of which Survey Drones Ireland is the leading facility in Ireland.
Overview of Securing a Permit
Choose which category of operations you require.

Register as an operator and your drone on MySRS.ie.

Complete the required ground school course with a DUTO.

Complete the training and required operational authorisation / risk assessment.

Get insured.

Successfully pass the flight exam.

Submit documentation to the IAA.
What Permit does Drone Surveying Require?
In most cases drone surveying will bring you through a myriad of different operations from large scale open field surveys to small heritage surveys in urban environments. This is very important to understand as it will define the category of operations you fall under within the EU regulations. The three categories defined are Open, Specific and Certified with the latter two providing much more freedom to operate a drone so long as the tighter rules around them are followed. 
For drone surveying, the Open category A1/A3 is too general for many operations whereas Certified is too much, involving the same risk levels as manned aircraft. That being said some operators may be happy with just the Open category A1/A3. However, it is recommended to obtain the Open A2 permit at a minimum or the Specific category licence for much greater freedom in urban environments. These categories are seen in more detail below.
Open Category
The Open category is broken down into three parts. A1 and A3 are the lowest risk operations whereas A2 is for higher risk operations. In most cases the A1 and A3 are not of any real use for drone surveys. Most operations require the pilot to be trained to A2 standard as a minimum. 
A1 – Very low risk operations with drones <250g in weight. Ability to fly over people excluding large gatherings. A1 only requires basic training on MySRS.ie.
A3 – Operations far away from people, commercial, recreational, residential and industrial areas. Away from any uninvolved persons. A3 only requires basic training on MySRS.ie.
A2 – Higher risk operations with drones <4kg at least 30m horizontally from people (down to 5m if low speed mode is selected). A2 requires training with a DUTO.
Specific Category
Simply put, operations that can not be done in the Open category yet are not complex enough for the Certified category fall in the Specific Category. Essentially those who wish to operate in urban environments within controlled airspace.
For the Specific category an 'Operational Authorisation' must be obtained by the pilot before any missions can take place. This is much the same as the old system of obtaining a 'Specific Operating Permission' (SOP) in which the pilot must state the where, how and what of the operations. As well as this the operator must show that the operation is sufficiently safe with the specified drone. This includes a risk assessment that needs to be accepted by the IAA.
As part of the Specific category it is recommended that you complete a Specific Operating Risk Assessment (SORA). This risk assessment will be required for an Operational Authorisation to be granted by the IAA.
Registration
Each pilot must register themselves as an operator and their drone on MySRS.ie. To register as an operator it will require some basic online training to be completed. MySRS will take you through a series of presentations after which you need to answer questions to essentially prove you have retained the basic level of knowledge required to fly a drone safely.
Once complete, a formal application will be required to be filled out including your address and government issued ID after which a small fee will be required. This will then be processed within the coming days and you are now a registered operator with the IAA.
The Open A2 and Specific categories both require more than the basic registration and online training. For these categories the operator must provide proof in conjunction with a DUTO such as Survey Drones Ireland that they have completed the appropriate ground school course.
Together with the DUTO, the operator can be awarded their permit to fly as well as officially registering their drone.
It must be noted that for commercial operations of any kind it is a minimum requirement to have 3rd party insurance. The operator's policy number can be entered on MySRS during registration.
Flight Exam
Upon completion of the Open A2 or Specific courses a flight test must be completed to ensure you have a required ability and confidence to operate a drone safely. This test will be overseen by an IAA registered examiner and will cover several different aspects of flight and flight safety. Take-off and landing, return to home, control of the drone are some of the things examined. This test is often not too much to worry about. Given some experience on the controls and comfort everyone can pass. 
Getting Certified
We make getting trained and licensed easy. Survey Drones Ireland is the leading training facility in Ireland ready to train and certify aspiring survey drone operators. We can help you at each step of the way from novice to fully licensed commercial operator. Flight Training now available – Basic level to Advanced Level.
We have years of experience in the field and welcome the new EU wide regulations that enable each of us to operate in a more safe and lawful manner. To get trained and certified, contact us today at info@surveydrones.ie or call Dublin (01) 456 8650 / Cork (021) 423 2957.