Mavic 3 Enterprise  Package – €3,962.00 Less VAT
1 X Mavic 3 Enterprise Drone
1 X RTK Module
1 X Battery Kit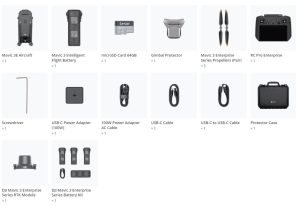 Mavic 3 series and have been designed to operate in a vast array of commercial missions. Streamlined, portable and compact, the DJI Mavic 3 Enterprise drones can be carried in one hand and deployed at a moment's notice. Thanks to their impressive flight time of 45 minutes, they are ideally suited for lengthy assignments.
The DJI Mavic 3E's extraordinary combination of features enables highly efficient mapping and surveying missions without the need for Ground Control Points.
DJI Mavic 3 Enterprise integrates a 20 MP wide-angle camera with a 4/3 CMOS sensor with large 3.3μm pixels that, together with Intelligent Low-Light Mode, offer significantly improved performance in dim conditions. Its powerful up-to-56x hybrid zoom camera has an equivalent focal length of 162mm for 12MP images. A mechanical shutter prevents motion blur and supports rapid 0.7-second interval shooting.
Premium Camera Performance
– HD Wide Camera
– Smart Low-Light Photo
– Thermal
– Synchronized Split-Screen Zoom
Compact and Portable
– Lightweight 915g/920g airframe
– Compact body that fits in the palm of your hand
– Perfect for beginners and veteran pilots
alike
Ultra-long battery life
– 45-min max flight time
– 100W charging hub for fast charging batteries
– 88W drone direct charging
Flagship Flight Safety
– Wide-angle lenses for omnidirectinoal obstacle sensing with zero blind spots
– Advanced RTH
– APAS 5.0 for automatic rerouting
around obstacles
Full Software Suite
– DJI Pilot 2
– DJI FlightHub 2
– DJI Terra
– DTAT 3.0
For More Info Contact Us!